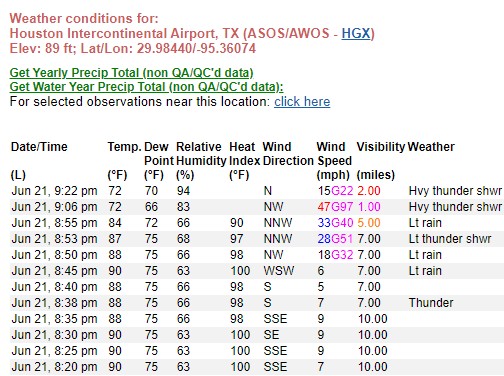 Not going to lie, we didn't expect this to occur this evening. A storm system that developed near the Dallas metro area on Wednesday afternoon hurried southward, pushing through the Houston metro area in the course of the late evening hours. To our surprise, as an alternative of weakening as this method pushed southward, it maintained its intensity.
As of this writing nearly 100,000 customers are without power in Montgomery County, and nearly 240,000 in Harris County. This is generally as a result of the very strong wind gusts that accompanied these storms. An unconfirmed wind gust of 97 mph was recorded at Bush Intercontinental Airport as this line of storms passed through. To be clear, these winds were wholly unexpected whilst of a number of hours ago. I'd expect it to take a minimum of a number of hours for crew to get out and about and address fallen trees and other issues.
On the upside, the system dropped 0.5 to 1.0 inch of rain across much of the world, which was badly needed after 10 days of sunshine and hot weather. Temperatures have also dropped below 75 degrees across most of Houston, a spot they've not been in greater than per week. I realize that is not any small comfort if the ability dropped out at your own home this evening.
By way of the near-term forecast, once the storms go through your area this evening, that's probably it for tonight. Tomorrow morning looks fairly calm, and we're probably high temperatures within the low- to mid-90s. At this point I'd expect storm probabilities to start out spinning back up within the afternoon hours, probably peaking again in the course of the early evening. Hopefully we will nail that forecast somewhat higher for you in tomorrow morning's post.
Now I'm going to return to my late dinner—of humble pie.

Source link