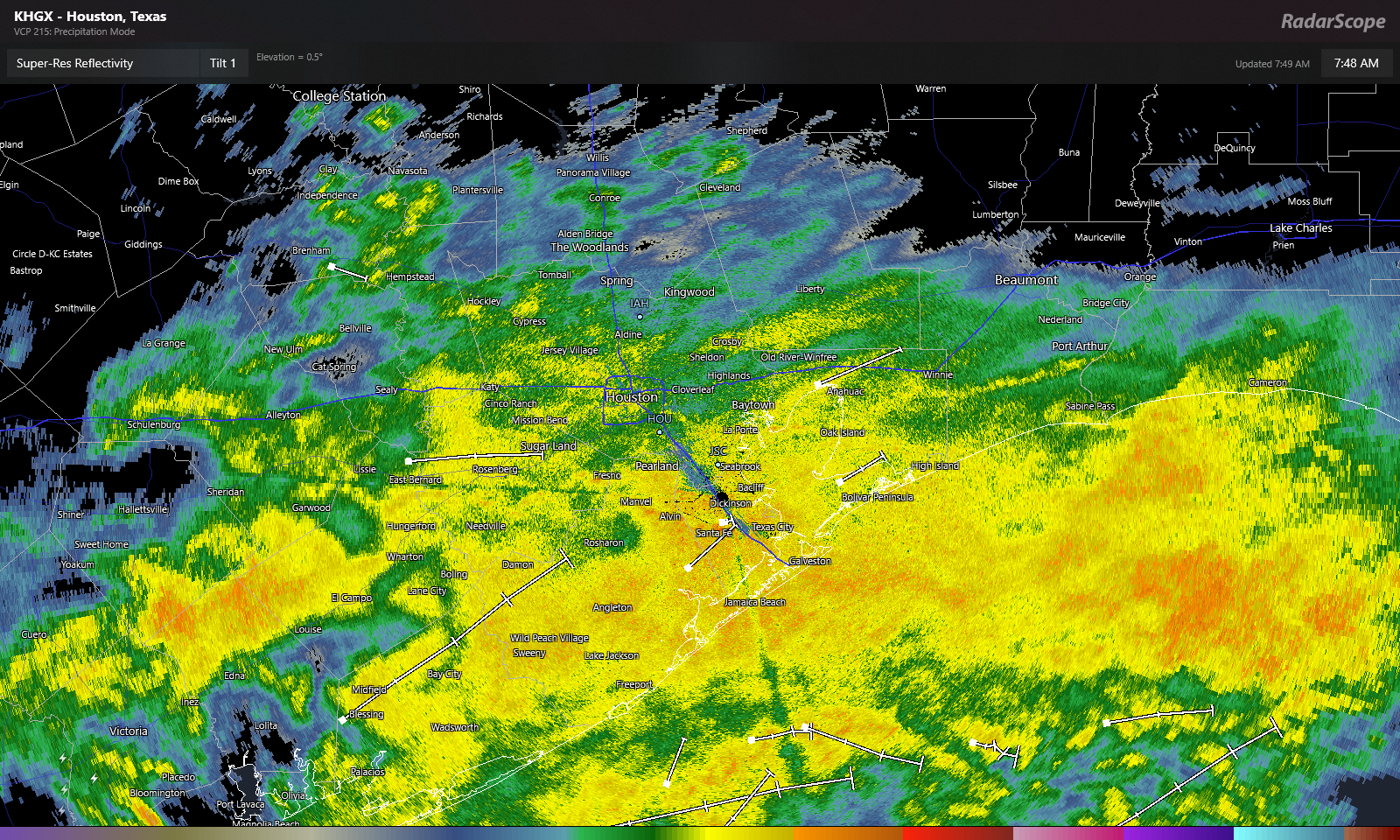 Good Saturday morning to you! You don't must be an authority on meteorology to take a look at the below radar image from 7:45 Saturday morning to comprehend it's probably going to be raining for awhile.
Rain will likely be with us all day today. We must always see the rain develop into more intermittent or taper off after sunset tonight, however it may not filter a ton before Sunday morning.
It's within the 40s in most places in and around Houston this morning. Temperatures should refrain from budging much today, so expect the chilliness to stay.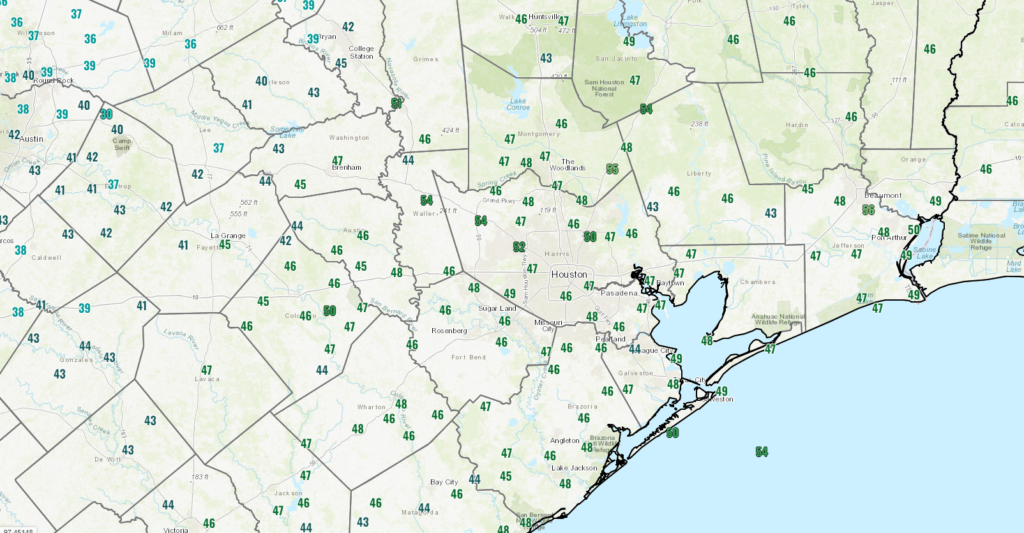 Along with the rain and the chilliness, it should be breezy today. Inland areas will experience 15 to 25 mph wind gusts today. Areas along the Gulf or bays may even see some 30 to 40 mph wind gusts. Coastal locations have wind advisories, gale warnings (offshore), and small craft advisories (bays) all posted for today and tonight.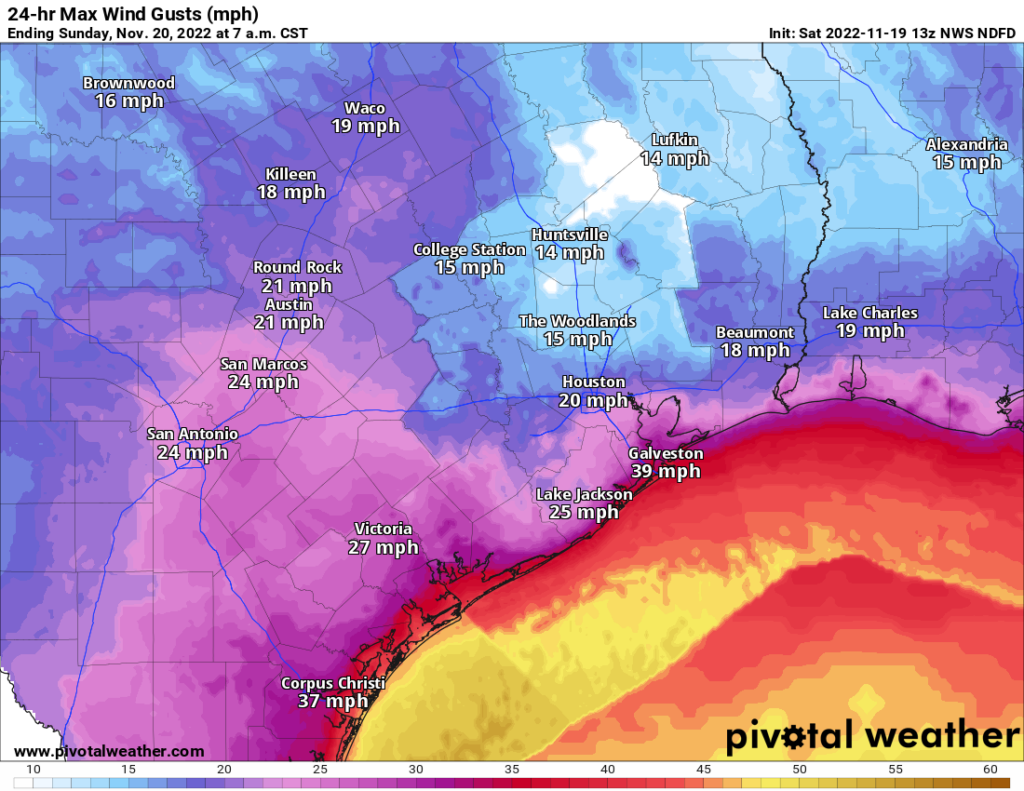 All in all, only a Southeast Texas winter type day today.
Sunday & Monday
Any lingering light rain or showers should taper off before sunrise Sunday. If we're lucky, we'll have the opportunity to sneak in a number of hours of sunshine tomorrow before clouds thicken back up. Showers could begin to interrupt out again south and west of Houston by mid-afternoon. Those will overspread the realm Sunday night and Monday before petering out Monday night. A few of this rain could possibly be just somewhat heavier at times than what we see today. Temperatures will likely be within the low-50s on Sunday, 40s Sunday night, and possibly struggling to get to 50 on Monday.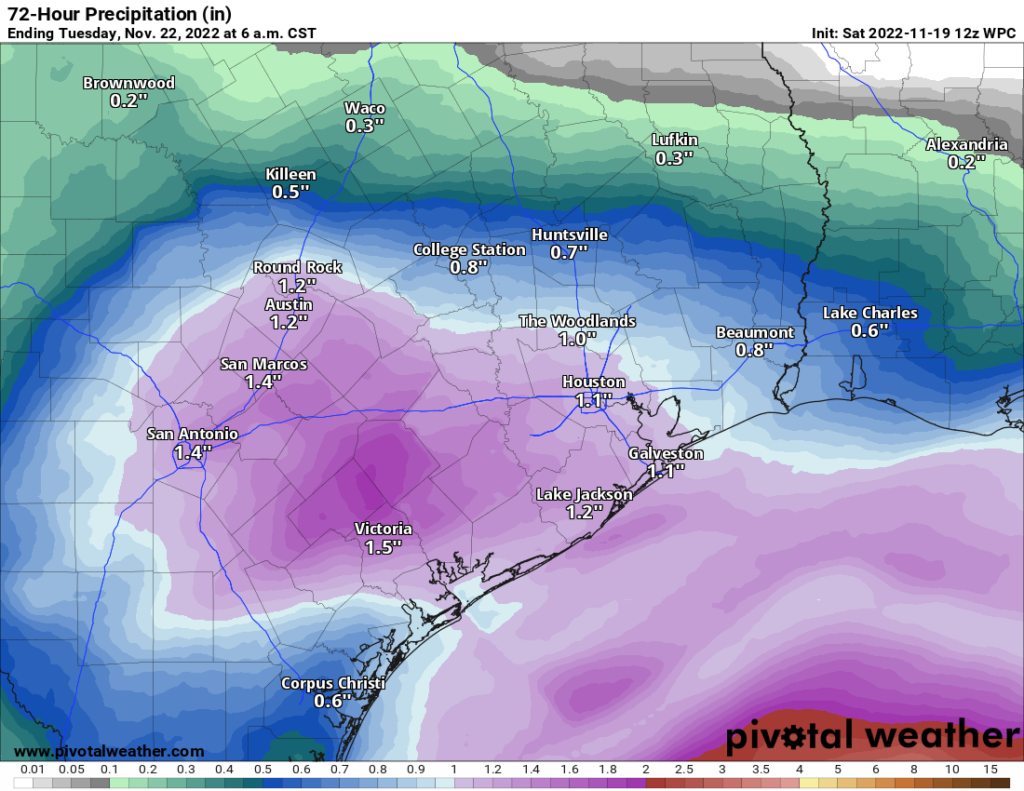 The farther north of Houston you're, the more likely you find yourself closer to a half-inch of rain. The farther south of Houston, the closer to an inch or more between today's rain and Monday's rain.
Tuesday through Friday
Some excellent news today: It seems that rain possibilities could also be somewhat lower on Thursday. They definitely won't be zero, and it seems likely that we see not less than a period of rain in some unspecified time in the future Wednesday night through Thursday. However it could also be in a narrow window. Here is our updated pondering today:
Tuesday: Clouds, some sun, a shower possible. Morning lows 40s, daytime highs near 60.
Wednesday: Clouds, some sun, a passing shower possible. Morning lows upper-40s to close 50, daytime highs low-60s. (A note that travel conditions on Wednesday look decent across most of Texas and Louisiana)
Thanksgiving Day: Clouds with a period of showers and storms possible. Clearing late. Morning lows 50s, daytime highs upper-60s to close 70 degrees.
Friday: Sunny! Breezy to windy, nonetheless. Morning lows 40s, daytime highs around 60 degrees.
Fundraiser
One other thanks to all who've contributed to our annual fundraiser! It continues. You possibly can click here to purchase items. And for those who don't wish to buy merchandise and just want make a contribution, click here and check the box that claims "I'd wish to make a donation only." We're grateful in your support. Thanks!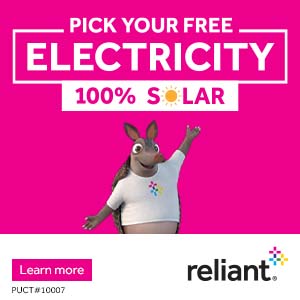 Source link