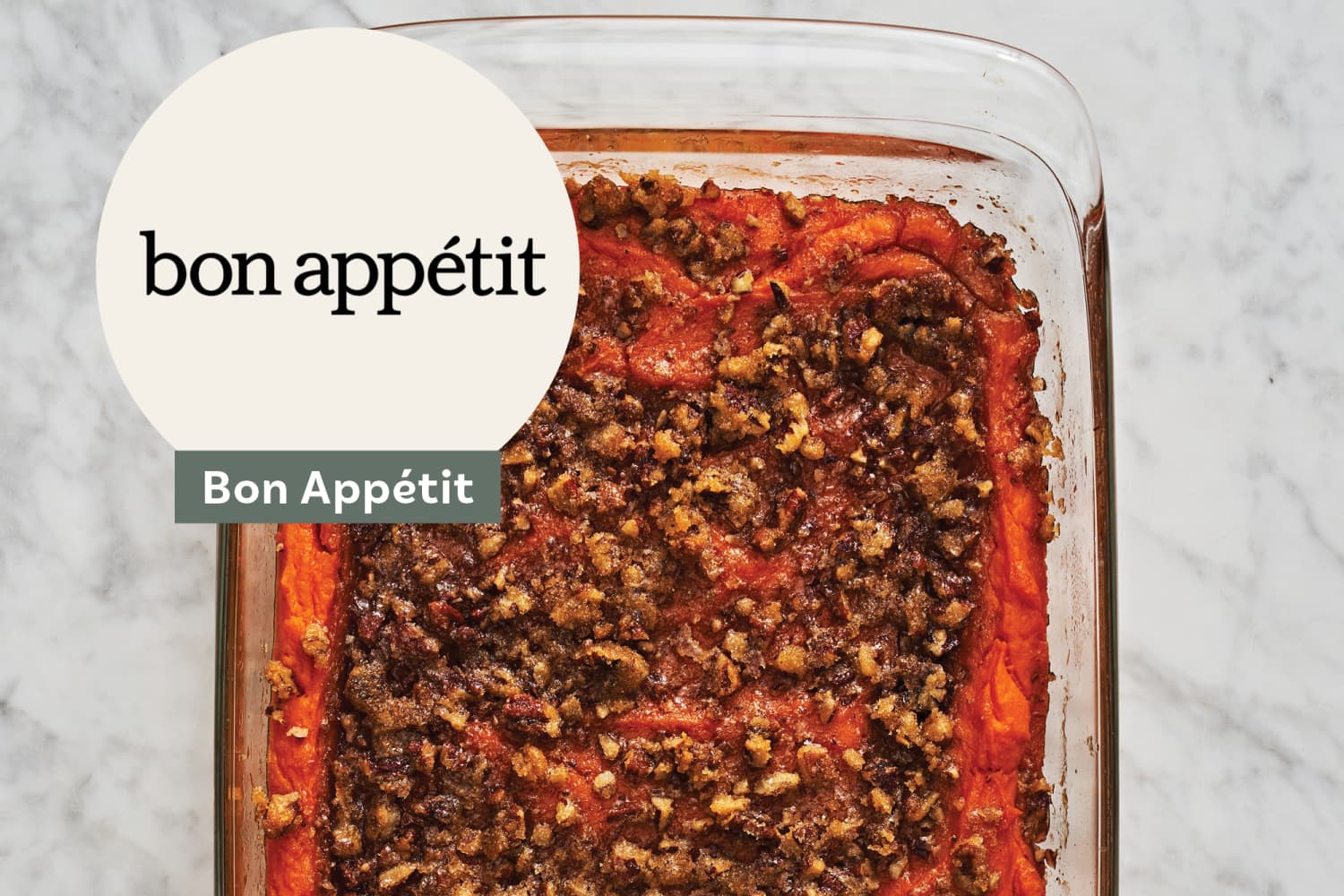 At first glance, this sweet potato casserole from the November 1998 issue of Bon Appétit seemed pretty straightforward: Sweet potatoes are mashed with a bit of sweetener and topped with a brown sugar and pecan topping. But there are just a few things that set it apart. First, as a substitute of roasting sweet potatoes, as many other recipes call for, you boil them before puréeing them within the food processor. Then, two full tablespoons of vanilla extract and a whopping 4 eggs are added. These aspects had me intrigued enough to present the otherwise basic-looking recipe a try.
Get the recipe: Bon Appétit's Mashed Sweet Potatoes with Brown Sugar and Pecans
Learn how to Make Bon Appétit's Mashed Sweet Potatoes with Brown Sugar and Pecans
This recipe has you peel and chop five kilos of sweet potatoes and boil until tender. Allow them to drain and sit within the colander for quarter-hour to remove as much moisture as possible.
Mix the sweet potatoes in a food processor until completely smooth, then transfer them to a big bowl and blend in 4 eggs, three tablespoons maple syrup, two tablespoons vanilla extract, two teaspoons of salt, and a bit of lemon juice before transferring to a casserole dish.
Gently mix together brown sugar, pecans, and cubed, chilled butter in a small bowl, then scatter over the sweet potatoes. Bake for a full hour.
My Honest Review of Bon Appétit's Mashed Sweet Potatoes with Brown Sugar and Pecans
Most recipes I got here across have you ever roast the sweet potatoes to pay attention their flavor as a substitute of diluting it with water. I discovered that boiling didn't affect the flavour and was much easier, even with the added prep work. It was much easier to do some chopping than it was to peel hot-from-the-oven sweet potatoes. Plus, there's rather a lot more guesswork involved when roasting whole potatoes. The variation in size means you're not guaranteed the timing the recipe guarantees. But chopping the sweet potatoes yourself means you've more control and that quarter-hour of cook time is definitely possible. Plus, letting the potatoes fully drain reduces the danger of watered-down flavor. 
As someone who prefers chunky mashed potatoes, I wasn't sure I used to be going to love the sleek purée, nevertheless it was really lovely. Along with the eggs and the little little bit of sweetener from the maple syrup and the nice dose of salt, the feel was dense but not heavy, and really well-balanced. I used to be anxious concerning the vanilla extract, nevertheless it doesn't overwhelm.
I used to be also skeptical of the three-ingredient topping that didn't require cutting together butter and flour. But because this casserole bakes at a lower temperature for twice so long as the others, the butter and brown sugar melt together, then form a beautiful crust. It could definitely be dessert, nevertheless it is on no account too sweet.
Overall, this recipe only had a slight edge over the Edna Lewis and Scott Peacock recipe. With less filler, this one has more pure sweet potato flavor, and my taste testers appeared to barely prefer its streusel. This casserole also holds its shape pretty much, which I feel is useful when your Thanksgiving plate is heaped with half a dozen different dishes. And I also appreciate that you just only must turn the oven to at least one temperature as a substitute of adjusting the temperature as other recipes require. This dish will certainly have a spot in my Thanksgiving spread from here on out.
If You Make Bon Appétit's Mashed Sweet Potatoes with Brown Sugar and Pecans, a Few Suggestions
Source link