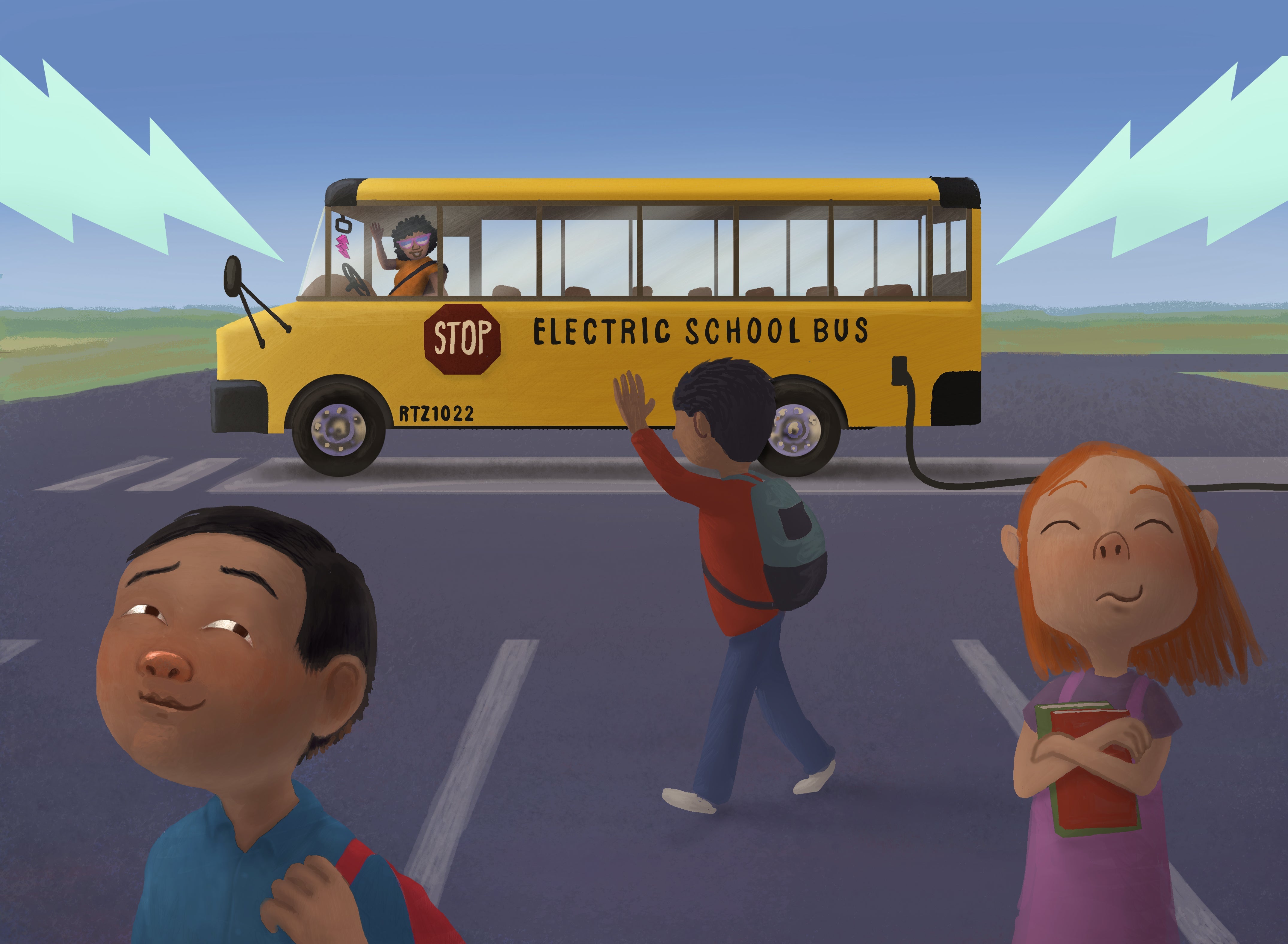 What if schoolchildren could go to school on a magic carpet – fast, smooth, quiet, with no exhaust pipe and no exhaust fumes? Unfortunately, magic carpets don't exist anywhere except cartoons – but electric school buses do, and they're pretty close. School districts across the United States are beginning to convert their fleets from dirty diesel buses to pollution-free electric, sparking a change in the way 25 million school-age children end up in school each day.
The magical electric school bus not only takes kids to school without exhaust fumes and pollution, it also saves money in school districts, creates jobs, protects the climate and helps communities with energy supply. It really doesn't get any better than this.
Federal climate bills passed this year have made billions available for electric school buses, putting school districts in an excellent position for the development of electric school buses. Time to step on the accelerator on clean kids rides.
Electric buses save children's lungs
There are so many reasons to electrify school buses that it's actually hard to list them all, but let's start with health. Diesel exhaust fumes produce some of the dirtiest and most toxic pollutants that pollute the air in our neighborhoods and directly harm children who ride diesel buses.
A 2005 University of California-Berkeley study looked at pollution from Southern California school buses and found that a disturbingly large amount of this pollutant enters the buses, where children who ride the bus inhale it. About 40 children on the bus inhale as much or more pollution from buses than is inhaled by the entire local community.
Children are particularly vulnerable to damage from air pollution. Their lungs are not fully developed and are usually outside and more active than adults – meaning they inhale more airborne debris. Research shows that children who grow up in more polluted areas are more likely to experience reduced lung growth from which they may never recover. The average loss of lung function is roughly the same as growing up at home with your parents who smoke.
And it goes without saying that buses with internal combustion engines – whether they run on diesel or fossil gas – pump out the climatic pollutants that are cooking our planet's climate. In California, for example, 41% of greenhouse gas emissions come from transportation. This is a contamination that we can now start cutting.
Children deserve a ride to school that doesn't pollute their neighborhood. Check out the magic electric school bus! This is the largest – and by far the most exciting – EV I have ever ridden. ⚡️ #RightToZero # CleanRide4Kids pic.twitter.com/qNTozfPHeC

– ATHENA (@ Athenax9) September 22, 2021
Not only cleaner, but better deals
The magic electric school bus not only protects children's health and our climate. It saves the school district money and helps the local economy. Electric vehicles are cheaper to maintain than internal combustion engines, and have significantly fewer moving parts. And powering a vehicle with electricity has always been cheaper than gas or diesel: a few years ago, Chicago estimated that each of its electric transit buses could save $ 25,000 a year in fuel costs. When they are not transporting children to and from school or excursions, buses stand idle and may recharge when renewable energy production is high and electricity on our grid is the cheapest.
In 2022, diesel prices rose as much as gasoline, complicating the finances of school districts across the country. Electric buses eliminate this uncertainty and save serious money. When the Antelope Valley Transit District converted its public bus fleet from diesel to electric buses, it quickly resulted in well over a million dollars in fuel savings.
The federal government is also making big waves to help school districts electrify their fleets: EPA recently doubled funding in the first year of its Clean School Bus program to nearly $ 1 billion for school districts in all 50 states, thanks to the Inflation Reduction Act. In total, the EPA is investing $ 5 billion over 5 years to replace polluting school buses with clean vehicles.
These clean buses are also good for the local and US economy. EU bus makers like Thomas Built, BYD and IC Bus (Navistar) are building these buses in facilities where wages, benefits and employee votes help ensure that electrification creates strong communities and jobs to raise a family on. By adopting deliberate purchasing practices such as the U.S. Employment Plan, school districts across the country can help maintain industry's high work standards so that non-affiliated companies such as Blue Bird and Lion Electric are encouraged to make similar quality-of-work commitments and investment in labor. This is what happened in Southern California, where local unions such as the International Electric Workers' Brotherhood have raised the standards for the safe and professional installation of electric school bus charging infrastructure.
But wait, there's more! Electric school buses can store so much energy that they can essentially function as batteries on wheels, ensuring the stability and resilience of our power grid, and further helping with the clean energy transition. School districts in 14 states from Florida to Washington are already working with local utilities to bring electric school buses to use on local power grids. The Cajon Valley Union school district in San Diego began using electric school buses as a climate-friendly tool for providing energy resilience.
It's time for electricity
In 2018, New York City started a wave of progress when it committed to operating 100% electric school buses by 2035.
Now electric school buses are replacing dirty diesel buses nationwide, from California's Bay Area and Modesto to Montgomery County, Maryland and Durango, Colorado. The United School District of Los Angeles – the second largest nationally after New York – adopted a clean energy resolution in 2019 committing to 100% clean transport by 2040, but is a step or two behind New York if it is about electrifying its bus fleet for more than 42,000 children who travel by bus to and from school every day. Angelenos, including the Los Angeles County Electric Trucks and Buses Coalition, are urging LAUSD to build a fully electric school bus fleet by 2035, making it one of the first school districts in the country.
Technology is now available to replace dirty diesel school buses with something that is truly almost magical – clean, efficient, better for our children's health, and saving money for school districts and local communities.