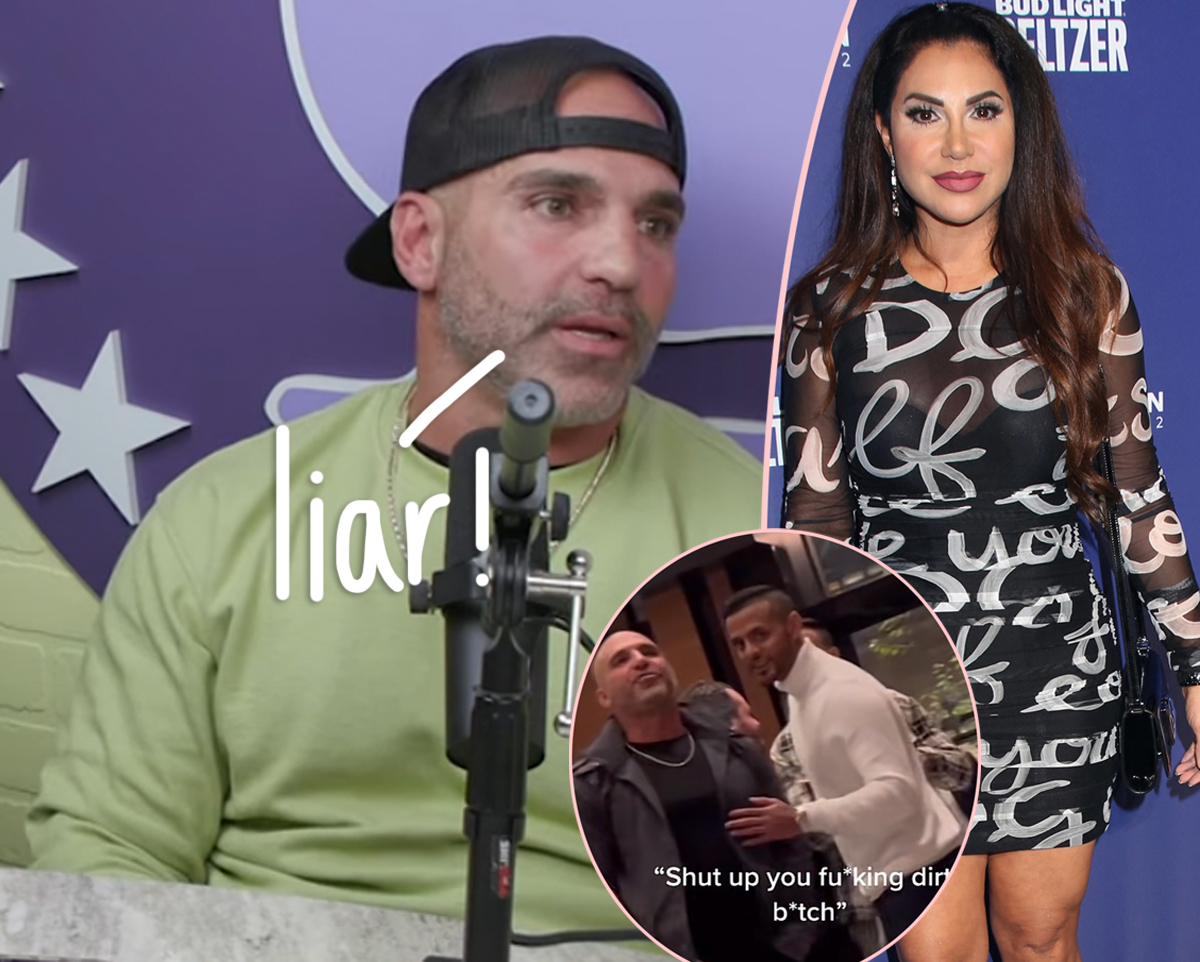 Joe Gorga talks about what happened between Jennifer Aydin and him at this 12 months's BravoCon!
In case you need a refresh, The Real Housewives of Recent Jersey star got into an oral argument in a hotel lobby near the Javits Center at a convention last month. In line with a TikTok video, recorded by Jennifer's social media assistant Erica Madelyn, the 45-year-old television personality "decided to go to the BravoCon after-party" after the convention, while her husband Bill Aydin stayed on the Gansevoort Meatpacking Hotel where they and the others the celebs stayed at the moment.
On the party, Erica said Jennifer grabbed "a cup of ice water." Nonetheless, they decided to go away the party early and returned to the hotel. Then Jen saw Joe and Melissa Gorg within the hall and tried to walk away from them. Erica continued:
"After we entered the hotel lobby every part broke. After we walked in, Jennifer Aydin apparently noticed that Melissa Gorga and Joe Gorga and their team were within the lobby. She looked, looked away [and] we went straight to the elevator. There was no interaction on Jen's part.
Related: Sonja Morgan Talks About Bethenna Frankel's Claim That She Will Be Fired From RHONY!
But Melissa clearly wasn't going to let her sneak out so easily. She saw Jennifer within the hall and called her "loser, fucking loser, would-be," the assistant says. Without waiting for it, Aydin clapped:
"Shut the fuck up."
Joe found himself in the course of the situation shouting at Jennifer:
"Shut up you fucking dirty bitch!"
Whoa !! Erica said Jennifer felt "threatened enough" by Joe's words to throw a drink at him. The Real Housewives crew never stops delivering drama wherever they go huh! You may watch the TikTok video (below):
I reply to @mamafic @ jennifer.aydin #RHONJ #jenniferaydin #melissagorga #joegorga #bravokon
Now, a number of weeks after this example, Joe calls out to Jennifer Aydin for LIE about the main points of this infamous situation! During his performance on the Chicks within the Office podcast on Friday, the 43-year-old argued that every part everyone heard from Erica was not entirely true, saying:
"All the pieces you've got heard is a lie. Whatever you heard assistant Jennifer said, it's all lies.
While Erica insisted in her movie that Joe and Melissa were starting a drama, Joe insisted that Jennifer sparked the situation:
"There's a story that she threw a drink at me and I told her vulgar things … no." To begin with, I used to be 50 feet away with my wife … Jennifer likes to kick lots and is involved in my family business. "
He then confessed that Melissa had "said something" to her partner, which might need made her indignant on the time, but he only expected them to get into an argument, noting that Jennifer was "not like that". He continued:
"In case you've watched her on a TV show for years, she drinks lots, is violent, throws objects, smashes glasses, desires to stab you with it, throws knives. I mean, that is what she is, she's crazy. Imagine it in real life. That is the edition! "
The owner of the development company also confessed to yelling at Jennifer. Nonetheless, Joe said he only did it because she allegedly "went mad". He then explained that the drink was "never thrown" at him but at his assistant:
"She was so uncontrolled that it was embarrassing. He screams at the highest of his throat like a madman.
In October, Melissa opened up concerning the situation on her On Display podcast, saying it began when Jennifer checked out her [her] eyes "as she walked towards the elevators. She endorsed the assistant's story that Joe called Jennifer a "dirty bitch" but claimed he said it to "other people" and never Bravolebrity. Hmm …
Jennifer has yet to comment on this, so we'll see if she reciprocates Joe's claims! Reactions, keen readers? Sound disabled within the comments below!
[Image via
Chicks in the Office/YouTube
,
MEGA/WENN
, Erica Madelyn/TikTok
]
Source link