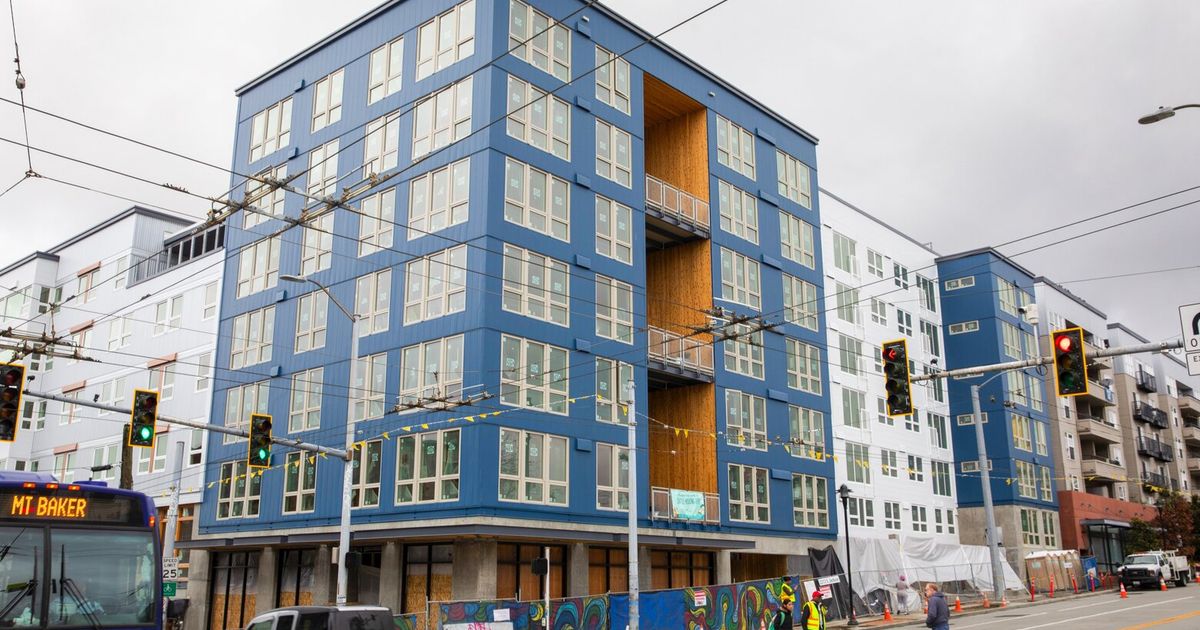 A majority of Seattle residents say they support a $970 million property-tax levy for reasonably priced housing on the ballot this fall, in response to a poll conducted earlier this month.
The result underscores the recognition of the decades-old levy as Seattleites strain under rising costs of living and a shortage of reasonably priced homes. But even with majority backing within the poll, the brand new levy, which is triple the present one, hasn't yet garnered the degrees of support seen on the ballot box in past years.
Of those polled, 57% said they support the levy, 30% said they oppose it and 12% were undecided. The Seattle Times/Suffolk University poll of 500 Seattle residents, conducted by phone from June 12 to June 16, has a margin of error of 4.4 percentage points.
The present $290 million housing levy passed in 2016 with 71% of the vote. Its predecessor passed in 2009 with 66% of the vote.
Firefighter Scott Wedemeyer, a Wedgwood homeowner who responded to the poll, said he's more likely to support funding for reasonably priced housing, but desires to learn more about how effective the prevailing levy has been.
"We definitely need more housing. We want to unravel an issue. We will't just wish it away," Wedemeyer said. "It also needs some metrics and accountability to make sure that the cash is well-spent."
The brand new seven-year levy would charge 45 cents per $1,000 of assessed home value, costing the owner of the median $866,000 Seattle home about $390 per 12 months. That may be a rise of about $260 from the present levy rate. The present levy expires this 12 months.
The levy primarily funds the development of subsidized rental homes for individuals with low incomes and enhancements to existing reasonably priced housing.
If voters approve the levy, $707 million would go toward construction and renovations. Nonprofit developers typically pair city money with other sources to construct subsidized housing. 
To qualify for the housing, people must make 60% of area median income or less, about $74,000 a 12 months for a family of three. Much of the cash will probably be directed to rentals for those making 30% of area median income, or $37,000 for a family of three. 
The levy would also fund other reasonably priced housing efforts: $122 million for operations, maintenance and services, including subsidizing rents and increasing wages for human services staff employed in supportive housing; $51 million for reasonably priced homeownership programs; and $30 million for rent assistance. A further $60 million would fund administration, including city staff.
The present seven-year levy has helped fund 2,735 latest units up to now, in response to data from a city oversight committee. The renewal is predicted to fund 2,881 latest rental apartments over seven years. City officials say that despite the upper cost to taxpayers, the variety of reasonably priced units will increase only by a small amount because of upper construction and property costs.
Wallingford homeowner Bridgette Landers, who participated within the poll, said she supports the levy because Seattle needs more housing across the income spectrum, including for people experiencing homelessness and folks working within the service industry. 
"People like living in a city with restaurants and stores … but who makes those city things occur, and where do they live?" said Landers, a 51-year-old software engineer. "You possibly can't expect to have restaurants where people drive three hours to get to work." 
As rents rise, some tenants are "on this tenuous edge" of affording their housing, leaving them susceptible to eviction, Landers said. "I'd wish to see more ways of intervention to maintain people from falling off that edge."
Homeowners were overrepresented amongst poll respondents at 57%, while 35% of respondents were renters. In Seattle, 45% of housing units are owner-occupied, in response to census data.
Support for the levy was higher amongst renters, with 65% in favor compared with 56% of house owners. 
Residents in Seattle City Council District 3, covering Capitol Hill and the Central District, were most certainly to back the levy, with 67% of those polled in support and 28% opposed. Support was weakest in District 7, covering downtown, where 50% of individuals supported the levy and 36% opposed it. 
Democratic respondents were way more more likely to support the levy than Republicans.
All nine Seattle City Council members voted to send the levy to the Nov. 7 ballot, though Councilmembers Alex Pedersen and Sara Nelson raised concerns about increasing property taxes. 
"City Hall is getting a fame as a one-trick pony that repeatedly decides to double or triple a property tax as if that were the one source of funding," Pedersen said before the vote.
Landers said she views the yearly cost as "very, very small in comparison with the scope of homelessness I see around the town."
Supporters have registered a committee to advocate for the measure, Yes for Homes, but haven't yet reported any contributions.
When the last housing levy was on the ballot in 2016, supporters raised greater than $400,000, with support from Amazon, Vulcan, Expedia, Microsoft, unions and nonprofits that construct reasonably priced housing. The 2016 levy faced no organized opposition campaign, but two North Seattle homeowners wrote an announcement against the measure within the voters' guide that 12 months.
More poll results will probably be released in the approaching days on subjects including city politics, public safety and homelessness.
Source link